Say Hello to Moody
Effective, clean, and most importantly fuss-free, we've got a product for every mood your skin is in - expect potency, expect results, expect an expertly crafted solution!
So go ahead, be You, be Moody!
New Launches
our new launches are here to vibe with every mood shift.
7D- Hydro Burst - Hydrated , Dewy Skin
Hydrating & Refreshing | Fluid | Water Based
VIBRAN C - Expert VITAMIN C Range
Rich in Antioxidants | Power Brightening | Vitamin C from 7 Natural Sources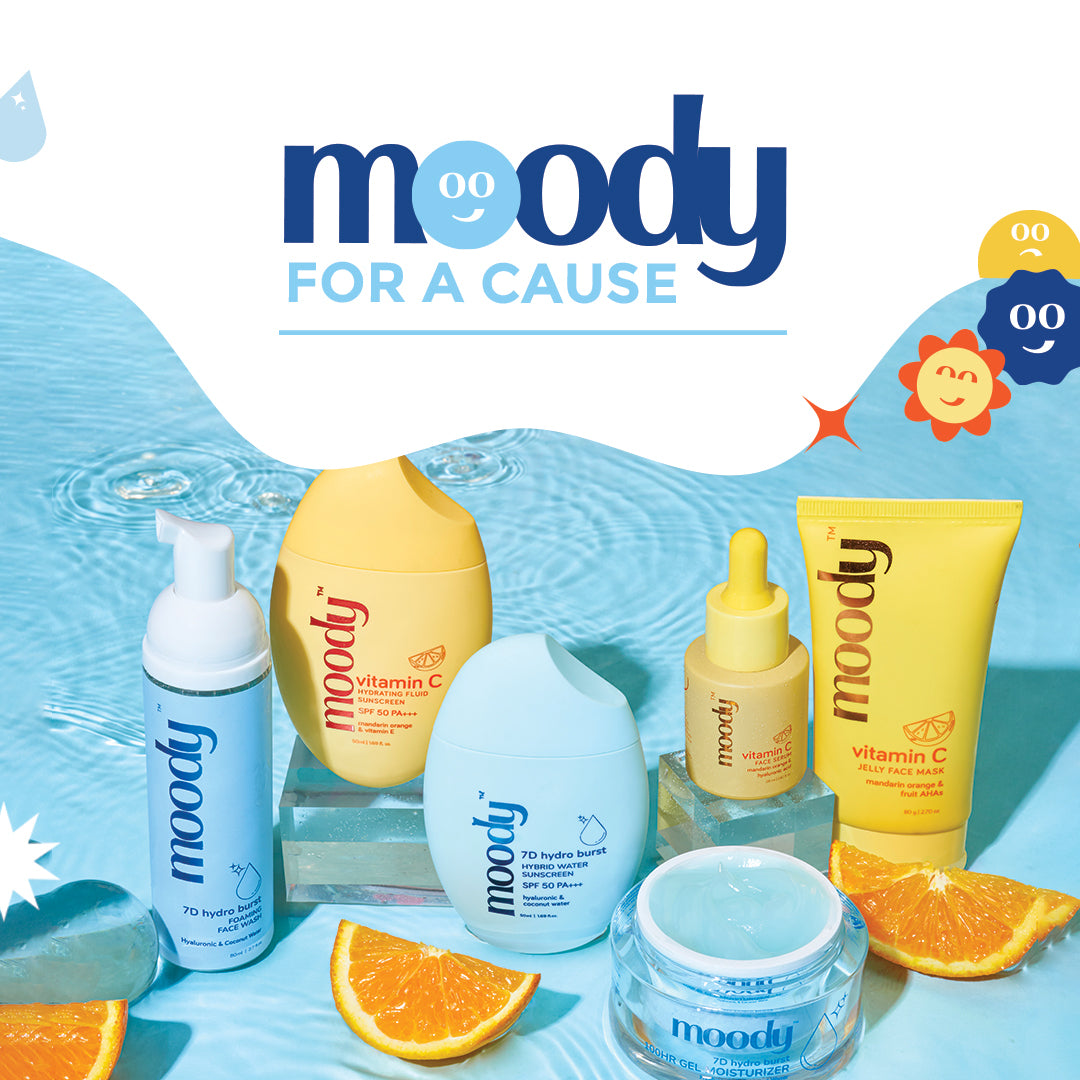 Moody For A Cause
Self-care is the key to a happier state of being. Moody is here to do exactly that. Through Moody we aim to create a safe space to talk about everything related to self-care and the importance of mental health.

When you buy moody, you help fund access to mental health resources for people who need them, to foster a better, happier version of themselves.

So stay tuned, be moody for a cause & join us in your journey of self-care.
#The Moody Community Voices
"This sunscreen is a game-changer! The Hydro Burst Water Sunscreen with SPF 50 is perfect for my active lifestyle"

Hydro BurstTM Water Sunscreen with SPF 50

"I have sensitive skin, and this moisturizer has been a game-changer for me."

Hydro BoostTM Water Gel Moisturizer

"My skin feels so soft and supple after using it, and it has helped to reduce the dryness and flakiness that I used to experience."

Hydro BurstTM Serum With 2% Hyaluronic Acid

"I love this body lotion with SPF! It's perfect for my beach trips as it provides both hydration and sun protection. "

Hydro BurstTM Beach Please Body Lotion with SPF 30

"I have been using this SunScreen since past 2 weeks, best part is that it doesnt sweat off from my skin."

Vitamin C Sunscreen

" I started to use the serum last month and the best part is that I have started seeing my dark spots dissapeare."

Vitamin C Face Serum

"Its better than any other be it nivea, Nyka, Plum or any other brand that I have used!!!"

Vitamin C Face Moisturizer